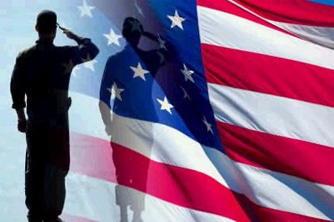 David Hulme's Story
The search for my father has been a roller coaster ride. It's a cliché, I know, but just to hammer the metaphor into oblivion, this was a ride on The Big One at Blackpool Pleasure Beach. The slow ascent to the top where you think you've succeeded, then the plunge into despair, a few twists and turns, and then the level run-in to a happy ending.

My search began more than 25 years ago when a friend of my grandmother told me my father was a US soldier called John Bell. My mother broke down in tears when I faced her with this, but refused to enlighten me further, and she died in 1997 without any explanation as to what had happened.

I've since found out that the man she married, Walter Hulme, who I never met and is now dead, had been tricked into marriage by my mother, who was around four or five months pregnant at the time. This was late 1944, and Walter worked out that he couldn't be the father because, as a Royal Navy sailor, he was away at sea when my mother became pregnant in June that year. He walked out on the marriage, although I've also been told that he had offered to stay and provide for the family. I believe it was parental pressure that forced him from the relationship.

What it meant for me was a lonely and insecure childhood, where I was put into care for a time when my mother went to live in Dagenham with a man who already had children. She later brought me out of care to face a childhood where I witnessed so-called domestic violence at close quarters. She had begun living with a man who in retrospect I realise was a sadist who enjoyed inflicting misery and pain on people and animals. I had a half-brother who was four years older than me, and was being cared for by his grandparents, so he at least escaped all that.

My mother came from a dysfunctional family and created her own unhappy home. But I managed to get away in my late teens, entered journalism against all the odds, married, and now have a happy family around me – here in the UK and also in the USA.

When I found out I had an American father I immediately wrote to the National Personnel Records Center in St. Louis to try to trace my father – John Bell – little realising then that this was a false name. The heroic Neils J. Zussblatt at the NPRC sent me a long list of John Bells, but of course I was on a futile mission because it was an assumed name. I also made contact with TRACE, the forerunner of GITRACE. And more recently, a military researcher in the USA, Mary Biby, searched the records free of charge and also, not surprisingly, drew a blank. We all know, of course, that most of the paper military records were destroyed in a fire in 1973.

So by 2015 I had resigned myself to never knowing who my father was. I knew that DNA tests were being used to trace family members but was slow to act – I still can't fathom why. By July of that year, though, I decided to give it a try, and at the same time joined GITRACE, where I came into contact with Julia Bell and Sally Vincent.

It was an autosomal DNA test with Ancestry that provided the breakthrough. These tests reveal hundreds of cousins – from close to distant – and a close cousin result is seen as "gold dust", according to Julia. Several brothers with the name Edwards were spotted on the family tree of a second cousin in the USA – one of them was "almost certainly" my father, I was told. Around ten pages of military records – an amazing amount given what the fire had destroyed – showed he had done military service in England at the relevant period in 1944. It looked like we had struck pay dirt.

I then traced a half-brother in Michigan, who had a younger brother who was somewhat sceptical about the possible relationship. Still, we all corresponded through the summer of 2016, and were on the verge of communicating via Skype when the younger brother got the result of his own autosomal test with Ancestry. It showed he was actually my first cousin. As I continue to be told, the DNA does not lie. His centimorgan count, the measure used in comparing DNA samples, was huge – just not big enough to be my half-brother.

This was my plunge into despair from the top of the roller-coaster. I was ready to walk away from it all, having no heart to start searching all over again, and feeling guilty about leading two men and their families to believe we were half-brothers.

After several weeks, though, I had begun to come to terms with my situation, and I also realised that a first-cousin relationship absolutely meant that another Edwards brother had to be my father. But which one, because there were three of the right age? Two could be eliminated – one was definitely my uncle, and another had seen US Navy service and was hardly likely to have been in England in 1944. The third brother was a year older than the one I had initially thought was my father.

Back to Julia Bell, who eventually produced a brief military record. On it was the name Allan Russell Edwards, and it showed he had served with the 837th Ordnance Depot Unit. I quickly checked my personal list of all the US military units stationed in Stockport, my home town, during May and June, 1944. There was the same unit – the 837th, confirming what I had always believed, that my father would be part of a supply unit and not a front-line fighting outfit, which increased his chances of his surviving the war, marrying and having children.

I already knew that my father, born in Michigan in 1920 and signing up for war service in 1942, had a son, known as Russ Edwards, because I had written to him when I thought he was a cousin. That time I got no reply, and it was to be the same again when I wrote to Russ and got no response. At least I had identified my father, even though I knew virtually nothing about him. He had died at the comparatively early age of 43, and there was nothing on the internet to give me any clues.

The older of my two first cousins in Michigan, Gene Edwards, proved to be the key, and I will always be grateful to him. I asked him if he could contact Russ Edwards to see if he had received my letter. I had tried phoning Russ but the line showed his number as unobtainable. Gene eventually got back to me to confirm what I already thought – that Russ preferred not to communicate with me. But then came the beautiful surprise. Russ had an older sister, Judi Clough, living in the lovely resort town of East Jordan, Michigan – and she would be only too happy to write back to me. The next surprise was to learn that Judi was two years older than me. It meant that her father, Allan Russell Edwards, only recently married and with a wife and young daughter at home, had an affair with my mother while stationed in Stockport.

I'm still waiting for Judi's view on that – we're using snail mail as she doesn't have a computer – but I'm sure that like me, she will see that our father's infidelity belongs to the past and that we are very much the present. We're finding out about each other, our partners, children and grandchildren, and although it is still early days, I am sure that we will meet before long.

Judi even went to the trouble of sending me the original portrait photograph of our father in uniform.
He is film star handsome – not a description I apply to myself. But in 1949 he began to develop MS, which led to his early death just before his 44th birthday.

During the long search for my father I had even tried an internet search for US poets named John Bell in the belief that because I am a published poet, along with my son, Andrew, it was perhaps in the genes and might indicate a relationship. It seemed futile – but then came an absolutely wonderful revelation. Judi tells me my father wrote poetry and was an avid reader, just like me and Andrew. So it is in the genes!

To round off my story, I've also discovered through a Y-test with FTDNA that I belong to the Cartmill male line, a pioneer American family with roots back to 1716. Our distant ancestor originated in the parish of Cartmel, now in south Cumbria, UK. It means that somewhere in the distant past, a Cartmill boy was either born out of wedlock or adopted into the Edwards family, and he is my ancestor. Genealogists call this a non-parental event (NPE.) I, too, am an NPE – a Hulme who should be an Edwards.

While waiting for DNA results and military records, I began doing family research. A family tree had already been started for me on Ancestry, thanks to Julia and her US collaborator, Angie Bush, and I began to expand it through my maternal line. I knew that my great grandfather, Isaac Peet, was one of nine victims of a cotton mill fire in Stockport in 1902. I decided to find out more, and the result is a book I am now planning to publish on the tragedy.

Finally, a word of thanks to Julia and Sally and everyone in GI TRACE. With your help, I have found my father, my half-sister and half-brother, and two first cousins, and it is wonderful.